We Ship Anywhere in the World:
We will happily ship your order anywhere in the world! Use your Visa Card for safe and secure ordering!
From Singapore to Germany our customers span the entire globe!
Questions? Contact me at
julierobins@comcast.net
We Accept:
Perfect Complexion TCA LATTE PEEL
Product Code:
Product 8
Availability:
364
Price: $40.00

Perfect Complexion TCA LATTE PEEL
Starting at: $40.00
2 oz. - $40.00
4 oz. - $70.00 ($10.00 Savings!)
8 oz. - $110.00 ($50.00 Savings!)
TCA Latte-Resurfacing and Hydration rolled into 1 product~
AMAZING PRODUCT!
THIS ONE WILL MAKE YOU LOVE ME!
Binding proteins and acids to amino acids is the newest technique in skin resurfacing!
This method of peeling virtually removes any chance of a topical reaction or burn! It also causes the skin to draw tight below the stratum corneum so you don't have a day where your skin looks wrinkled and dry right before the peel. You go from great skin the minute you apply it and then on day after a shower or a facial compress your skin will slough!
This product can be used daily and it can be reapplied right after you peel.
Chelated is a method used in China where they compound acid to hydrating compound for deeper delivery.
PERFECT COMPLEXION TCA LATTE (thin milk like cream) which is a CHELATED (CHILATED) PEEL. The texture is thin and can be applied with swabs or layered or rubbed into skin with fingers. Consistancy is not a heavy thick cream and there is no water added to this product.
Perfect for new skincare clients as well as seasoned skincare addicts. There are so many ways you can use this product. I add it to HA SOY and I add it to Amazing Day Cream for a lift and firming result that is unbelievable. For a more aggressive peel I apply it 3 times in one day and in 24 hours my entire stratum corneum sheds fast and evenly. I have even used a peasize LIGHT NIGHT with LATTE at bedtime.
Do not hesitate on this product. It will deliver 2000%!
---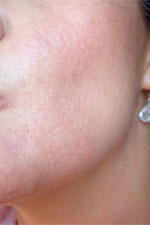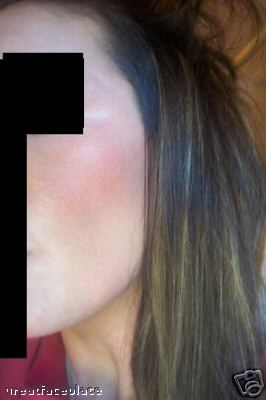 before after
Write a review
Your Name:
Your Review:
Note: HTML is not translated!
Rating:
Bad
Good
Enter the code in the box below: